Schedule, Standings, About Our League
OPENING DAY TO BE ANNOUNCED WHEN WE ARE INFORMED.
THE FIELDS ARE CLOSED UNTIL JUNE 15TH. WILL KEEP YOU INFORMED REGARDING OPENING DAY AS SOON AS INFORMATION IS RECEIVED FROM THE COMMISSIONER OF PARKS.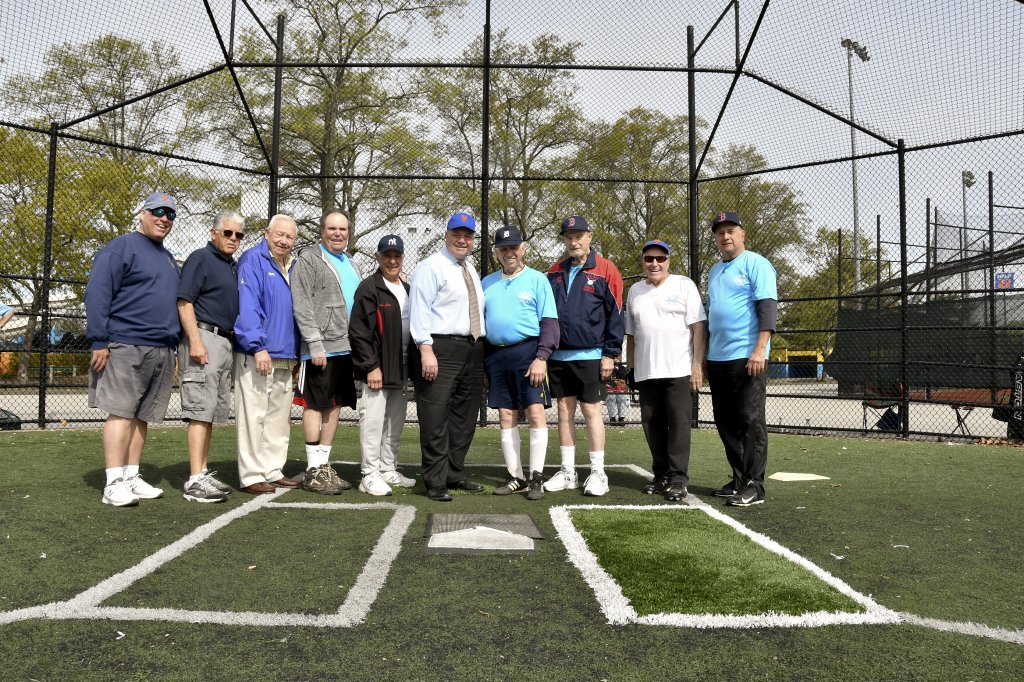 In recognition of their support, NYSSA invited Legislator Steven D. Rhoads
and Michael Santo Esq. an attorney who supported all Senior Softball Players at the Legislature meeting.
Michael Santo, Esq., LISSA President Joe Pellechi, NYSSA Executive Board Member Bernie Rosen, NYSSA Executive Board Member Alan Finchley, NYSSA Executive Board Member Frank Cecere, Legislator Steven Rhoads, NYSSA Commissioner Joe Ditaranto, former NYSSA Executive Board Member Bob Gebel, former NYSSA Executive Board Member Sonny Panico, NYSSA Executive Board Member Jules Balistreri.
WELCOME TO NYSSA (NEW YORK SENIOR SOFTBALL ASSOCIATION)
NYSSA is an age 68 and older softball league.
With the emphasis on fun and safety, we are unquestionably highly competitive and organized with all players in uniform and ASA umpires behind the plate each game.
We currently have 136 players divided into eight teams with 17 players on each team.
Double headers are played every Monday and Wednesday morning from June through September.on the turf fields at Nassau County Parks at Cantiague and Wantagh.
Our league is comprised of players with varying abilities all of whom share one common interest-A LOVE FOR THE GAME OF SOFTBALL.
Teams are formed for one year terms, with an annual Manager's draft designed to maximize parity among all teams.
We accommodate our players with features such as courtesy runners after they reach base, separate scoring and strike plates, extra defensive players in the outfield and infield, and other rules all designed to enhance safety and allow senior athletes to compete even if they are limited by injuries and other health issues.
With the help of our wonderful sponsors we have many extra special days and events throughout the year including Mid and End of Season All Star Games, Media Day, Awards Luncheon, as well as Fall Snowflake Games and optional Indoor Winter Games.
Combining all of the extra special days and events with our 56 games Regular Season and our End of Season Tournament there is plenty of year-round softball action for even the most avid players.
All qualified players are welcome to submit an application regardless of where they live.
If for any reason your application is rejected you will receive a full refund.
WE ARE TRULY NYSSA IN EVERY WAY!
NYSSA BOARD MEMBERS
Joe Ditaranto Commissioner
Jules Balistreri

Executive Board Member, Secretary,

Treasurer
Jack Battaglia Executive Board Member, Chairman - Evaluation Commitee
Bernie Rosen Executive Board Member
Jack Bassey Manager - Mets
Al Cappelli Manager - Red Sox
Frank (Cha Cha) Manager - Yankees
Peter Dill Manager - Dodgers
Alan Finchley Manager - Angels and Webmaster
Joe Gavin Manager - Cardinals
Joe O'Shea Manager - Orioles
Sam Quaglierini Manager - Phillies ​​​​​​​